Models: RES75, RES100, RES150, RES200, RES300, RES400, RES450, RES550, RES800, RES1250, RES1500, RES2000

Performance data presented in accordance with ISO 7183 (Option A2) conditions: 100°F inlet temperature, 100°F ambient temperature and 100 psig conditions.

Capacity Correction Factors
To adjust the dryer capacity for non-standard conditions, use the Capacity Correction Factors (multipliers) from the Table below



DEMANDSMART ENERGY MANAGEMENT SYSTEM:
By monitoring the incoming heat load to determine how much cooling energy is required to maintain stable dew point control, this energy-saving control system is able to make precise refrigeration compressor adjustments to match the varying heat loads, maximizing energy savings.

LOAD MATCHING PERFORMANCE:
Compressed air load profiles in most manufacturing facilities fluctuate. The RES Series provides cost-effective energy savings by matching electrical power consumed in direct proportion to air demand. Linear load matching is achieved from 0% up to 100% demand. Non-cycling dryers operate with the refrigeration compressor running continuously, regardless of inlet load conditions. Minimal energy savings are realized from 100% down to 0% inlet air load.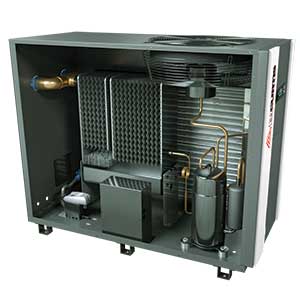 The RES Series lowers air system power costs and improves productivity by matching power consumption to compressed air demand.
LINEAR ENERGY SAVINGS
RES Series dryers automatically cycle (on /off) the refrigeration compressor in response to inlet load conditions. As the inlet air load is reduced, the power requirement to dry the air is matched in proportion to the demand. For example, at 60% inlet air load, a noncycling dryer consumes 96% of the full load power consumption, a 4% energy savings. By comparison, at 60% inlet air load, the RES Series consumes only 60 % of the full load power, a 40% energy savings.


Dryers are rated in a accordance to ISO 7183 standard rating conditions A2. (38°C / 100°F ambient) * FLEX Series also shown at an ambient temperature of 60°F (15°C) Note: The power consumption data set forth above for non cycling dryers and variable speed dryers was obtained from an article titled "Cycling Refrigerated Dryers – Are Savings Significant?" published in Compressed Air Best Practices in November 2011. The power consumption data set forth above for the FLEX dryer is based on laboratory testing performed on a FLX 1.2 model dryer. We expect that power consumption data between non cycling, variable speed and the FLEX dryer would be consistent regardless of the size of the dryer.
Stainless steel brazed plate 4-in-1 heat exchanger (patent pending), with phase change material reservoir
• The PCM thermal reservoir operates at a precise temperature to deliver a stable pressure dew point.
• Smooth, non-fouling stainless steel surfaces promote low resistance to flow, optimizing air system efficiency
No-air-loss, demand drain efficiently removes condensate without loss of compressed air
• Condensate drain lines terminate at discharge connections conveniently located on the side of the dryer
• Failure to discharge alarm on the operator interface enhances system reliability
High efficiency, up-flow aluminum air-cooled condenser
• Pulls ambient air through the condenser and releases out the top of the dryer condenser
• Provides cooler condensing air and greater efficiency
Reliable, semi-hermetic refrigerant compressors
• Environmentally friendly, globally accepted refrigerants
• Rugged design, for long-term operation
Controller with LCD display provides ease of monitoring and operating status

Energy saving (%), dryer operating time, refrigeration compressor operating time, active fault message dew point status, and
• USB connection port to download operating data and upgrade firmware
• Remote monitoring capability - RS485 communications port

Options
RES With Filtration Package - Dryers purchased with a CF Series Filtration Package, will receive 3-Years of additional protection. Five years total with the purchase of a maintenance kit on an annual basis.
RES With CFE Option - Dryers purchased with a CFE Mist Eliminator, will receive 3-Years of additional protection. Five years total with the purchase of a maintenance kit on an annual basis.

Accessories
RES Maintenance Kits (w/out Filter Package)
RES with Filter Package Maintenance Kits
RES with Mist Eliminator Maintenance Kits